18th Sunday Yr. A – Jesus Abundantly Blesses Our Small Offerings
July 28, 2020
Discussion Guide: 18th Sunday Yr. A – Jesus Abundantly Blesses Our Small Offerings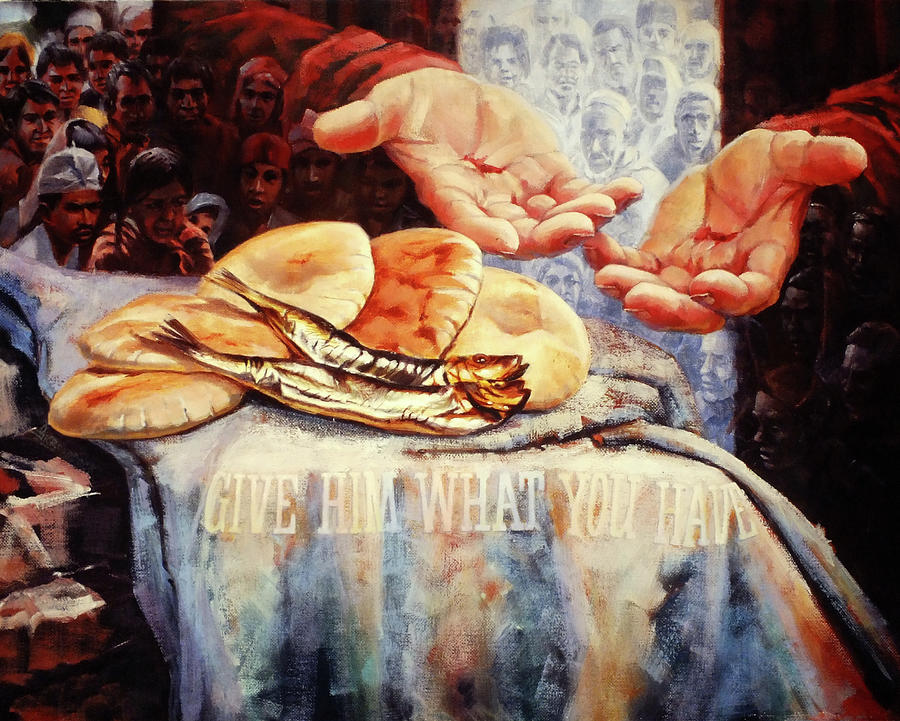 Reflection Questions:
• Isaiah 40-55 is known as 'The Book of Comfort'. God will comfort and look after his people. In ancient cultures a relationship and bond of commitment was sealed by a meal together. They also acknowledged with a prayer of thanksgiving that something was sacrificed (an animal, a grain of wheat..) in order that human beings were fed. A 'sacrifice' enabled a 'meal' which established a 'bond between the participants of a meal'. This is the basis of a 'covenant' meal in the Old Testament, the Last Supper and indeed the Eucharist Christians celebrate. God promises to feed us without money being paid. And to nourish us both physically and spiritually. Consider the gifts God gives you each day. How has God been 'feeding' you?
• St Paul himself endured being beaten, stoned, whipped, shipwrecked, imprisoned. Yet he boldly declares nothing can separate us from God's love revealed in Christ. What current experience causes you to think and feel 'separated' from Christ? Does Christ on the Cross 'bridge this gap'?
• Matthew 13 was filled with Parables on the Kingdom of Heaven, Matthew 14 is now concerned with the Kingdom of the Church and the mission of the Disciples. We are taught how we are to be and live.
• John the Baptist, the greatest prophet, has been killed. This sadness causes Jesus to retreat to a deserted and lonely place. Consider all the feelings of Jesus in losing a very close companion. Wanting silence and rest. Having a crowd chase after him. Tired and yet moved with pity and willing to give of himself. What do you learn about Jesus? About God? About yourself?
• John the Baptist spoke courageously reminding Herod he cannot marry his brothers wife. Why does the world seek to remove the 'voice' of a prophet? Have you experienced the tension and risk in being a 'prophet' today? What happened?
• Matthew is seeking to show Jesus as the fulfilment of Moses and all the prophets. Parallel to the feeding in the desert (Moses / Exodus) Jesus now feeds a large crowd in a 'deserted place' with bread. There is an abundance of food (a symbol of the great messianic age). Each Apostle is left holding one of 12 baskets of bread symbolic of the new Tribe of Israel (Church). The Disciples now have the job of feeding the hungry. Imaginatively enter the scene and pretend to be a disciple. What did you learn?
• The Disciples had a 'poverty mentality'. Jesus had an 'abundance mentality' when even a small amount of resources were offered to God. Consider your response to the 'poor and hungry' this week. What could you do with the little you have?
• What is one action that you will do to 'livetheword' this week?