Archive for the 'Body of Christ' Category
Discussion Guide: 18th Sunday Yr. A – Jesus Abundantly Blesses Our Small Offerings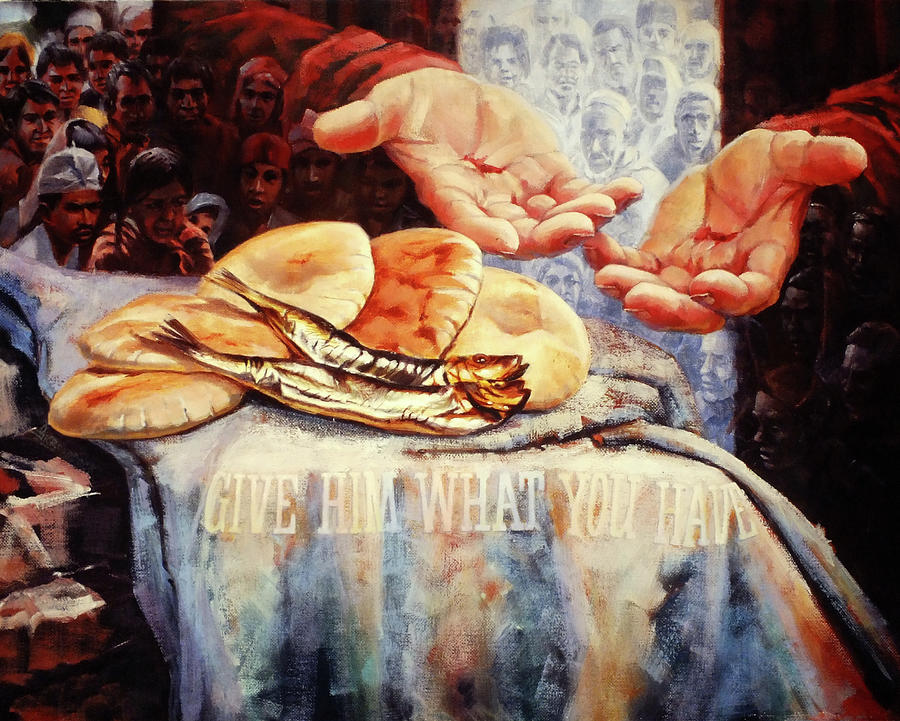 Reflection Questions:
• Isaiah 40-55 is known as 'The Book of Comfort'. God will comfort and look after his people. In ancient cultures a relationship and bond of commitment was sealed by a meal together. They also acknowledged with a prayer of thanksgiving that something was sacrificed (an animal, a grain of wheat..) in order that human beings were fed. A 'sacrifice' enabled a 'meal' which established a 'bond between the participants of a meal'. This is the basis of a 'covenant' meal in the Old Testament, the Last Supper and indeed the Eucharist Christians celebrate. God promises to feed us without money being paid. And to nourish us both physically and spiritually. Consider the gifts God gives you each day. How has God been 'feeding' you?
• St Paul himself endured being beaten, stoned, whipped, shipwrecked, imprisoned. Yet he boldly declares nothing can separate us from God's love revealed in Christ. What current experience causes you to think and feel 'separated' from Christ? Does Christ on the Cross 'bridge this gap'?
• Matthew 13 was filled with Parables on the Kingdom of Heaven, Matthew 14 is now concerned with the Kingdom of the Church and the mission of the Disciples. We are taught how we are to be and live.
• John the Baptist, the greatest prophet, has been killed. This sadness causes Jesus to retreat to a deserted and lonely place. Consider all the feelings of Jesus in losing a very close companion. Wanting silence and rest. Having a crowd chase after him. Tired and yet moved with pity and willing to give of himself. What do you learn about Jesus? About God? About yourself?
• John the Baptist spoke courageously reminding Herod he cannot marry his brothers wife. Why does the world seek to remove the 'voice' of a prophet? Have you experienced the tension and risk in being a 'prophet' today? What happened?
• Matthew is seeking to show Jesus as the fulfilment of Moses and all the prophets. Parallel to the feeding in the desert (Moses / Exodus) Jesus now feeds a large crowd in a 'deserted place' with bread. There is an abundance of food (a symbol of the great messianic age). Each Apostle is left holding one of 12 baskets of bread symbolic of the new Tribe of Israel (Church). The Disciples now have the job of feeding the hungry. Imaginatively enter the scene and pretend to be a disciple. What did you learn?
• The Disciples had a 'poverty mentality'. Jesus had an 'abundance mentality' when even a small amount of resources were offered to God. Consider your response to the 'poor and hungry' this week. What could you do with the little you have?
• What is one action that you will do to 'livetheword' this week?
Discussion Guide: 12th Sunday Yr A: Know Your True Worth
Reflection Questions:
 Jeremiah expresses total confidence that the Lord will protect him even though he is in a volatile situation where even one-time friends are out to trip him up. Have you ever felt trapped and surrounded by difficulties out of your control? How did you relate with God through that time?
 How hard is it for you to 'trust your cause' to God like Jeremiah? What do you need to be able to move from knowledge about faith to faith in a warm, honest, deep relationship in which you experience of love, power, mercy and justice of God at 'gut' level in your life? Try praying the prayer of Jeremiah and keep a record of how God works in your situation.
 In Romans 5 Paul explains why the revelation of Jesus means God can be utterly trusted. Because he put his love on the line by sending Jesus to rescue us when we were trapped in sin and separated from God. Sin entered the world and because of sin we struggle with trials, difficulties, addictions and disordered desires and relationships with people and creation in a myriad of ways. But just as one person caused the problem, Jesus – true God and true Man – overcame sin not simply for himself but for many. That is the essence of the Good News. While we were trapped in sin, Jesus came to set us free. It is a gift to be accepted and opened. What aspect of your life do you struggle most with? Ask Jesus to give you the grace of what you need to be set free in that area today.
 Jesus tells us to "Fear no one". That takes enormous freedom born out of trust in the absoluteness of God's power and care for us. Jesus asks us to recognize our true worth – that we are so precious to God that every hair on our head has been counted and even a sparrow is known to God. What does the imagery tell you about how attentive God is to you? Did you know how much God values you? Pray for the gift of knowing the worth God sees in you.
 The Gospel tells us that anyone who acknowledges Jesus before others will be acknowledged by Jesus before the Father. What opportunities to share God's love can you take this week? How do you feel knowing that Jesus speaks up for you and your needs?
 The word 'fear' appears, 92 times in the New Testament. God knows our human tendency to be afraid and wants to encourage us to trust God. Pope St John XXIII said, "Consult not your fears, but your hopes and your dreams. Think not about your frustrations, but about your unfulfilled potential. Concern yourself not with what you tried and failed in, but with what it is still possible for you to do." How does knowing your true worth help you do that?
 What is one action that you will do to be 'livingtheword' this week?
Discussion Guide: Solemnity of the Body and Blood of Christ
Reflection Questions:
• The Solemnity of the Body and Blood of Christ (Corpus Christi) began as a response to increased devotion to the real presence of Jesus in the Blessed Sacrament in the 12th Century. This led to a desire to 'see' Jesus in the consecrated elements. In 1220 in Paris the practice of elevating the host began.
• God's journey with his people in the desert involved difficulties but also God's providence and care. You were bhungry and I fed you with manna – 'a food unknown to you'. (See Ex 16). Providing food is a basic expression of care for your children. It creates a bond. And yet they soon grew tired of this 'manna'. It became taken for granted. How could you reawaken a deeper sense of appreciation for God feeding us with the Word and the Body and Blood of Jesus at mass? Is it 'normal' or 'special'? How?
• There were many temples in the city of Corinth. It was 'normal' to take food and offer it to various 'god's and pledge allegiance to them. St Paul writes this is not to happen with christians. At the sacred meal (Eucharist) we participate in and receive the blood of Christ and the body of Christ. It is not right to then join your body with worship to other 'altars' and 'demons' (1Cor 10,21). Is my communion with Jesus real or superficial? Does my life-style show I have many 'gods' and 'altars' that I worship at? What change and purification may be necessary in my life?
• Moses was greatly revered for 'feeding' people with bread from heaven (1st Reading). Jesus now replaces Moses and this 'event' with his body. 'Heavenly Bread' is now replaced with 'flesh'. It is no accident that the words flesh and blood are repeated 10 times in this text. How can this man give us his flesh to eat is a question that leads to layers of questions. Is Jesus a 'man' or the Divine Son of God? Is the real question 'how' can this happen or 'who' is making this promise? Do you believe in these words? This promise? What the Mass brings into the life of the world and the Church and offers personally to you?
• Meditate / reflect on these scriptural lines and allow a conversation to begin with God.
• The bread that I will give is my flesh for the life of the world….
• My flesh is true food, and my blood is true drink….
• Unless you eat the flesh of the Son of Man and drink his blood, you do not have life within you….
• Whoever eats my flesh and drinks my blood remains in me and I in them…..
• Is your experience of the Eucharist one of looking, sitting, getting or becoming? Does it progress from Sunday into Monday…?
• What is one action that you will do to 'livetheword' this week?