Archive for the 'Christian Marriage' Category
Discussion Guide:   27th Sunday Year B: Marriage – What God has joined together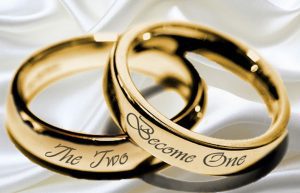 Reflection Questions:
• Genesis describes a truth, in a story, about our human condition. Man and Woman are different from the rest of creation. God's invitation and partnership with creation invites Man to 'name' the animals and exercise authority over them. It seems God's most beautiful act of creation is woman. In Genesis we learn, 'male and female he created them… in God's image and likeness he created them.' Have you considered the intimacy of Man and Woman becoming 'one flesh' together points to the image and reality of what God is like? One Flesh is the Old Testament and Jewish phrase describing the deep and total union of mind, body, emotion, and spirit that is lived in the marriage covenant. The sacrament of marriage is therefore pointing toward and making God's love present for the other. If you were to explain christian marriage to someone what would you share?
• The Letter to the Hebrews seeks to show Jesus as the replacement of the Jewish Temple Priesthood and sacrifices. The Temple in Jerusalem was like an 'earthly shadow' of the reality of 'Heaven'. God 'came down' in Jesus, and completed the task of salvation and continues to link Heaven and Earth. Do you see the link between Heaven and Earth in the Church, liturgy, priesthood, sacraments?
• Jesus is traveling toward Jerusalem and is questioned by Pharisees. Frequently they seek to trap him with difficult questions and arguments. This would embarrass him in front of the crowds and disciples. Jewish custom and practice had allowed a Husband to divorce his wife for anything ʻobjectionable'. A Jewish woman was not allowed to divorce. Some agreed. Some disagreed. Rather than talk about legal arguments of divorce, Jesus chose to talk about what marriage is: two becoming one flesh and joined together by God. Jesus states man and woman are equal. He re-introduces woman's equality and states this injustice of easy divorce is not God's plan. Why do you think the scriptures continue to use the phrase ʻtwo become one flesh'? What does this mean for you? What would you like to ask Jesus if you were involved in this conversation?
• Leaving ʻfather and mother and be joined together' holds an incredible challenge. Family traditions, customs, expectations, money, support… misunderstanding, frustration, resentment can easily creep in. Forgiveness will be required. Cracks and fractures left unacknowledged or repaired can become un-repairable. How good are you at ʻforgiving'? Talking and sharing in a way that ʻrepairs' hurt feelings and unmet needs? Have you shared your availability and willingness to help married couples in times of stress and need? Consider whose marriage you were at most recently. Were you there for the ʻcelebration' AND to show your support for their life-long journey? Have you shown support? How could you support those whose marriage dream has been broken?
• Jesus sought to include and show the equality of women. He also insists that children be included and not prevented from the Kingdom of God (2nd week in a row!) The openness and receptivity of a child is emphasised. What does it mean to ʻaccept' the Kingdom of God? Like a child?
• What is one action that you will do to be ʻlivingtheword' this week?
Discussion Guide: Fulfilling the Law
Reflection Questions
• The book of Sirach was a collection of wisdom sayings, attempting to show the beauty and depth of Jewish wisdom. Personally imagine the scene of water and fire before you. What do these symbols represent in your personal life? In what ways do you stretch out your hand toward water? Toward fire? What joy have you found in reaching toward water? What wisdom have you found in being 'burnt' by fire?
• 'If you choose' you can keep the commandments is pointing to human free will and capacity of each of us to follow the ways of God. The meaning of the word 'commandment' actually means something placed into your hand. Do you see the guidance of 'laws' and teachings of Jesus and the Church as a 'stick' or a 'message of love placed into your hands' by someone who loves you? What is the consequence of viewing 'laws' as 'a stick'?
• St Paul had many people in the Corinthian community turn against him. A particular group in the Corinthian community claimed to be more spiritual and knowledgeable. St Paul humbly points out that academic and worldly debate is not the sign of true wisdom from God. Knowledge and wisdom are different. Wisdom is found in love and often through suffering. And the spirit is present especially in those who love God. Who is a wisdom figure for you? How do you see love present in their life?
• The Gospel of Matthew is unique in that the community began with Jewish Christians, and then was increasingly joined by Greek converts to Christianity. Jewish Christians had grown up keeping all 613 laws of the Old Testament. Scribes (scripture scholars) and Pharisees (lay men determined to keep all the Jewish laws exactly) prided themselves on being 'righteous' and yet Jesus says their living is 'shallow'. Jesus invites followers to live far more deeply. Murder is healed when people resolve their 'anger'. Adultery is healed when people can live and look upon each other without 'lust'. Easy divorce is not a positive option. Let your word be always true in Yes and No. Anger. Lust. Relationships. Lies. What area do you need to work to transform so your life is living in right relationship with God and others?
• Recall if any brother or sister has anything against you. What would the invitation 'go first and be reconciled' before coming to Sunday Mass personally mean for you?
• What is one action that you will do to be 'livingtheword' this week?
Discussion Guide and Scriptures for 32nd Sunday Year C is HERE.
Reflection Questions
The stories of the Mother and 7 Brothers in the book of Maccabees aims to share Jewish Hero stories. While under persecution from Roman Emperors it was helpful to look to examples of great courage and faithfulness to Jewish teaching and tradition. It is best understood not primarily as exact history, but faith lessons taught via story. It was the Maccabean family that stirred up a revolt against Syrian authorities and drove them out of Israel. These young brothers along with their Mum defiantly proclaim their belief in the resurrection. If in the midst of a violent persecution, where would your heart and thoughts turn to?
St Paul reminds the Thessalonians that they are not to sit idle, waiting for the end of time. They are to do all they can so that the Word of the Lord may speed forward… and keep on ʻdoing' what they have been instructed to do by Paul. This requires the endurance of Christ'. How would you rate your discipleship journey at present. Idle? Speeding forward? What do you require endurance in?
Sadducees were the elite priestly class that served in the Temple. They only believed in the Torah (first 5 books of the Bible) and did not consider other writings or oral traditions as binding. Consequently they did not believe in the Resurrection. They sought to involve Jesus in a conversation that would cause others to ridicule him. Their view of marriage was a Levirate view. Marriage continued the
family line and stopped a family dying out. Jesus challenges the Sadducees not to think so narrowly. In death we are changed, not ʻdead'. And there is more to marriage than maintaining children. Have you ever considered that Marriage is to symbolise the union we will have with God in heaven? Marriage is a sign pointing to a heavenly reality. When you are in the ʻreality' of the restaurant you no
longer need the ʻsign' for the restaurant.What does this teach you about Christian Marriage?
• Celibacy and Chastity are connected with Marriage as they seek to live the ʻreality' of union with God in heaven instead of living the ʻsign' of God in marriage. Can you see how married people, priests, sisters, brothers, consecrated lay people, are all ʻpointing' to the same reality? Have you ever had difficulty understanding the vow of ʻchastity' that religious people make? Do you understand a little more now?
• In celebrating the recent All Souls Day (November 2nd), did it stir up within you thoughts of resurrection and your belief in the after-life. How would you say the Resurrection affects your life ʻnow'?
• What is one action that you will do to ʻlivetheword' this week?