Archive for the 'Desire' Category
Discussion Guide:      3rd Sunday Yr. A – Follow Me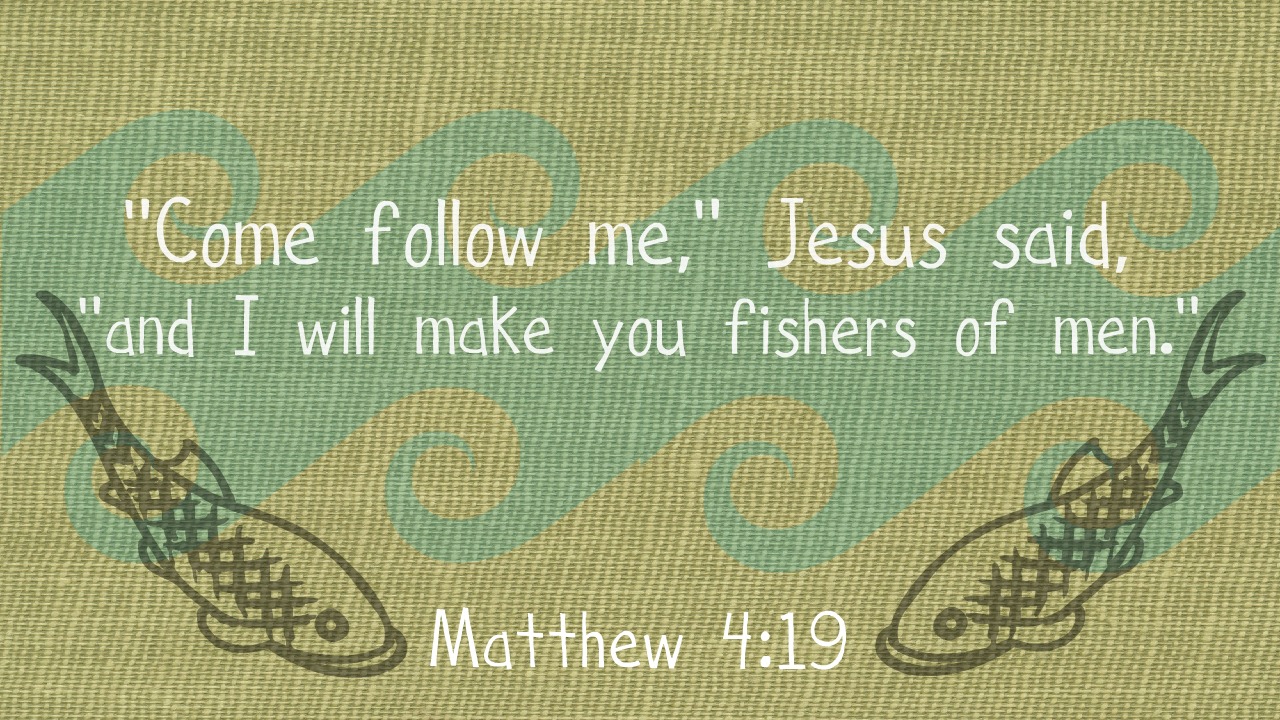 Reflection Questions:        • The Prophet Isaiah remarks that the land called 'District of the Gentiles' (the area around the sea of Galilee) will see 'a great light'. Imagine a small narrow road linking one part of the world with the other. This is the 'Holy Land' (Israel). It was a very busy trading route. Consequently there were many 'foreigners'. For Jewish people it sometimes felt like a curse. However in God's plan the light shines brighter in the darkness. Have you ever experienced being lost in darkness and then helped by a light? What happened. What is Isaiah trying to teach us about God?
• St Paul continues his writing to the people of Corinth. He is upset that their witness and service to Christ has turned towards arguments rather than charity. Have you ever felt a group of people wanting you to 'belong' to 'their idea'? Have you had an experience of 'division' in the community or workplace or parish, people claiming the same purpose but not united in 'mind'? Did you seek to understand 'both sides' and seek unity, or, did you grow division?
• Today in Matthew's Gospel Jesus leaves his home town of Nazareth and arrives in Galilee. Fulfilling the 1st Reading prophecy of Isaiah, Jesus spends most of his 3 years of public ministry between 3 towns in Galilee. As the new year begins do you feel it is time to leave your 'Nazareth', your place of comfort, and enter 'Galilee' to undertake a new challenge? How could you be a light to 'people who sit in darkness'? Those overshadowed by death, sickness, sadness?
• In the time of Jesus, the phrase Kingdom of Heaven and Kingdom of God were special. Everyone was waiting for the time when God would finally overcome the power of evil. Essentially Jesus begins preaching a 'wake up' call: 'change your mind (repent), take notice, God is now showing victory over evil! This is the good news. Have you ever noticed Jesus both preaches and heals. Words and actions go together. How does your life bring the kingdom of heaven and contribute to the overcoming of evil? Is your faith words and actions?
• Fishing was the main industry around the sea of Galilee. Peter, Andrew, James and John were probably not 'poor'. Boats, nets, family, work colleagues, commitments and bank accounts are significant for them (and us!). Yet they are placed second to Jesus' invitation to follow. Is the presence of your life curing and comforting (disease and illness?) or comfortable and callous? If you had to write a sentence of what you thought God would personally like you to do / be, what would you write?
• What is one action that you will do to be 'livingtheword' this week?
Discussion Guide:        3rd Sunday Advent Yr. A : Sorrow and Mourning Will Flee
Reflection Questions:    • The 3rd Sunday of Advent is known as 'Gaudete Sunday' because a joyful first reading always points to the joy of Christmas about to arrive. The Prophet Isaiah has images of people being returned 'home'. Isaiah 35 paints a picture of exiles being returned back to Jerusalem. But they were a little scared of all the hard work ahead of rebuilding homes, growing crops. Do you look into the future feeling afraid? Have you been able to see 'parched land' this year change to 'abundant flowers'?
• God 'saving' his people is prophesied to take place with wonderful 'signs'. The blind see, deaf hear, lame leap, mutes sing. Can you imagine these are the most life changing events that could take place for someone. What would need to happen to cause you to 'leap' and 'shout' for joy? Does Jesus bring this experience into your life? How? Why not? Share this conversation with God for an advent prayer. There are many tragedies in our world. How do you live in the hope and joy of Christ's return in glory, while sharing care & solidarity for the suffering?
• Patience is needed when you wait for someone or something that does not come at the expected time. You quickly realise you need to hold on to a positive attitude or frustration even anger will creep in. Trusting in the faithfulness of a friend, or remembering their strong relationship with you, allows you to endure the hardship and maintain hope that they will 'arrive'. Can you remember an experience of waiting for a friend to arrive? What happened? In your life what gives you confidence and trust in God? What does God's future 'coming' mean for you?
• John the Baptist has a special friendship with Jesus. Yet, John is confused. Jesus is not 'fighting' the military powers of Rome. And certainly not breaking John out of his imprisonment. He asks painfully: 'Are you really the one we are waiting for'? Jesus refers to the prophesy above of Isaiah. Special signs are being shown but they are different from what people wanted or expected. Do you sit back 'waiting' for God or get involved in completing the work of God… helping people regain their life, sight, walk, cleanse peoples lives of a leprous state? Stand by or Stand in for God?
• When people were normally expected to go to the Temple, many walked in another direction out to the 'desert' to hear a different message. How could you prepare for Jesus at Christmas differently than you have ever done before? Reconciliation? Shopping? Fasting? Slowing down? Sharing with your children?……
• What is one action that you will do to be 'livingtheword' this week?
Discussion Guide:      32nd Sunday Yr. C – Walk worthy – Glorify Him
Reflection Questions:    • The stories of the Mother and 7 Brothers in the book of Maccabees aims to share Jewish Hero stories. While under persecution from Roman Emperors it was helpful to look to examples of great courage and faithfulness to Jewish teaching and tradition. It is best understood not primarily as exact history, but faith lessons taught via story. It was the Macaabean family that stirred up a revolt against Syrian authorities and drove them out of Israel. These young brothers along with their Mum defiantly proclaim their belief in the resurrection. If in the midst of a violent persecution, where would your heart and thoughts turn to?
• St Paul reminds the Thessalonians that they are not to sit idle, waiting for the end of time. They are to do all they can so that the Word of the Lord may speed forward… and keep on ʻdoing' what they have been instructed to do by Paul. This requires the ʻendurance of christ'. How would you rate your discipleship journey at present. Idle? Speeding forward? What do you require endurance in?
• Sadducees were the elite priestly class that served in the Temple. They only believed in the Torah (first 5 books of the Bible) and did not consider other writings or oral traditions as binding. Consequently they did not believe in the Resurrection. They sought to involve Jesus in a conversation that would cause others to ridicule him. Their view of marriage was a Levirite view. Marriage continued the family line and stopped a family dying out. Jesus challenges the Sadducees not to think so narrowly. In death we are changed, not ʻdead'. And there is more to marriage than maintaining children. Have you ever considered that Marriage is to symbolise the union we will have with God in heaven?Marriage is a sign pointing to a heavenly reality. When you are in the ʻreality' of the restaurant you no longer need the ʻsign' for the restaurant. What does this teach you about Christian Marriage?
• Celibacy and Chastity are connected with Marriage as they seek to live the ʻreality' of union with God in heaven instead of living the ʻsign' of God in marriage. Can you see how priests, sisters, brothers, consecrated lay people, married people are all ʻpointing' to the same reality? Have you ever had difficulty understand the vow of ʻchastity' that religious people make? Do you understand a little more now?
• In celebrating the recent All Souls Day (November 2nd) did it stir up within you thoughts of resurrection and your belief in the after-life. How would you say the Resurrection affects your life ʻnow'?
• What is one action that you will do to ʻlivetheword' this week?