Archive for the 'Bread of Heaven' Category
Discussion Guide:    The Most Holy Body and Blood of Christ Yr. A
Reflection Questions:        • The Solemnity of the Body and Blood of Christ (Corpus Christi) began as a response to increased devotion to the real presence of Jesus in the Blessed Sacrament in the 12th Century. This led to a desire to 'see' Jesus in the consecrated elements. In 1220 in Paris the practice of elevating the host began.
• God's journey with his people in the desert involved difficulties but also God's providence and care. You were hungry and I fed you with manna – 'a food unknown to you'. (See Ex 16). Providing food is a basic expression of care for your children. It creates a bond. And yet they soon grew tired of this 'manna'. It became taken for granted. How could you re-awaken a deeper sense of appreciation for God feeding us with the Word and the Body and Blood of Jesus at mass? Is it 'normal' or 'special'? How?
• There were many temples in the city of Corinth. It was 'normal' to take food and offer it to various 'god's' and pledge allegiance to them. St Paul writes this is not to happen with christians. At the sacred meal (Eucharist) we participate in and receive the blood of Christ and the body of Christ. It is not right to then join your body with worship to other 'altars' and 'demons' (1Cor 10:21). Is my communion with Jesus real or superficial? Does my life-style show I have many 'gods' and 'altars' that I worship at? What change and purification may be necessary in my life?
• Moses was greatly revered for 'feeding' people with bread from heaven (1st Reading). Jesus now replaces Moses and this 'event' with his body. 'Heavenly Bread' is now replaced with 'flesh'. It is no accident that the words flesh and blood are repeated 10 times in this text. How can this man give us his flesh to eat is a question that leads to layers of questions. Is Jesus a 'man' or the Divine Son of God? Is the real question 'how' can this happen or 'who' is making this promise? Do you believe in these words? This promise? What does the Mass bring into the life of the world and the Church and offers personally to you?
• Meditate / reflect on these scriptural lines and allow a conversation to begin with God.
• The bread that I will give is my flesh for the life of the world….
• My flesh is true food, and my blood is true drink….
• Unless you eat the flesh of the Son of Man and drink his blood, you do not have life within you….
• Whoever eats my flesh and drinks my blood remains in me and I in them…..
• Is your experience of the Eucharist one of looking, sitting, getting or becoming? Does it progress from Sunday into Monday…?
• What is one action that you will do to 'livetheword' this week?
Discussion Guide:    Feast of the Body and Blood of Christ Yr. C
Reflection Questions:    • When the Church celebrates a special ʻFeast' or ʻSolemnity' it is frequently the result of controversy. The origin of this feast dates to the 12th Century responding to debate about the true presence of Jesus in the Eucharist. When was the first time you can remember debating and seeking to understand Jesus truly present with the gift of his body and blood in the Mass? How would you describe and share this eucharistic faith with a friend today?
• Melchizedek, King of Salem is a very mysterious figure without a genealogy. By his actions he is both King and Priest. And Salem is known as the future city of Jerusalem – the dwelling place of God the Most High for Israel. Abraham has just returned from overcoming 4 kings and rescuing Lot and all his possessions. A King was normally wary of such a visitor as Abraham. They would show welcome by tending to the wounded – hoping that their ʻkingdom' would not be pillaged by the visiting army. Strikingly Abraham who represents God's people, offers this  Priest / King a tenth of all his possessions! Many writers comment Melchizedek is a sign of an altogether new and divine priesthood able to confer a special blessing from God. How do you understand the Priesthood today?
• Paul's letter to the Corinthians is the earliest writing we have of the celebration of the Eucharist (15-20 years before the first gospel). Paul shares this ʻtradition' (which means ʻhanding on') comes from Jesus himself. We are told to ʻDo this'. For Jewish people, to do a ritual liturgical action in ʻremembrance' was to actually enter and receive the event celebrated. Paul shares the Eucharist proclaims and makes present the cross and victory of Jesus. We receive God's forgiveness but also intimate communion. What does receiving ʻholy communion' mean for you?
• King Herod has just asked a question ʻwho is this man of whom I hear such wonders'? (Luke 9:9). The Gospel of Luke shares this miracle story of the loaves. Old Testament background stories add texture to this passage where Elisha showed himself working by God's power to feed 100 people with a few loaves. God fed his hungry people in the journey in the desert through Moses. Jesus now feeds the hungry, sick, and poor of Israel. God's hospitality and Jesus' mission is shown. Jesus gets the 12 Apostles to serve the banquet. What might this teach us about the mission of the church in the world to the hungry? The Eucharist?
• The disciples' attitude was one of ionfward focus and concern, ʻturn them away' we don't have enough resources. As you receive Jesus' body and blood will your attitude be one of simply ʻlooking'? selfishly ʻgetting'? generously self offering?
• What is one action that you will do to be ʻlivingtheword' this week?
Discussion Guide:    19th Sunday Year B: Sealed and fed to thrive!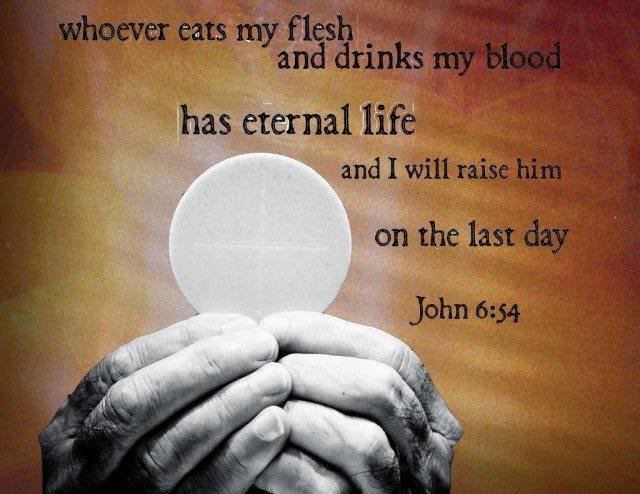 Reflection Questions:
• The continuing theme of being 'fed by God' is developed in the readings this week. Elijah sits exhausted under a tree in the desert. He is being hunted down by Princess Jezebel who was married to the King of Israel. She tried to replace all prophets and temples of Yahweh by importing 450 prophets and followers of B'aal from her homeland in Sidon. Elijah has just killed them all and is now on the run! (see 1Kings 18, 19-46). Have you ever got into difficulty as a result of obedience to God? Have you ever said to God: 'this is enough'? Is there any painful purifying of the Church that you find particularly difficult to participate in and endure?
• God encourages Elijah not to focus upon his own pain and fear. God wants to offer food and strength for the "40 day" journey ahead. Do you tend to focus on your own pain and mumble and groan? How could you develop a habit of being open to help and 'being fed'? God wishes us to move from simply 'surviving' to 'thriving'. If you were to ask God or someone for help, what would be your question in one sentence? How could you grow your hunger so you experience being 'fed' with scripture and the eucharist?
• St Paul teaches that we were 'sealed' at our Baptism. A 'seal' was a special jewel or stone or metal cylinder marked with a ʻsign' and pressed upon clay or wax orobject. The ʻmark – seal' indicated  the owners signature, ownership, authority on a legal document or object. The link between the person and / or object was now displayed to the world. As ʻsealed' people we are to witness to whom we belong. Paul inserts attributes displaying God; kindness, compassion, forgiveness. Are you conscious of being ʻsealed'? Is there any anger or bitterness the spirit would like you to let go of so as not to ʻgrieve the spirit' dwelling in you?
• Jewish people often referred to their ʻlaws' as ʻbread from heaven'. Their laws and teachings from Moses gave them life and revealed God to them. They grumble and ʻmurmur' at Jesus' claim: I am the bread that comes down from Heaven. Hidden within this phrase Jesus is claiming the Divine Name ʻI AM' and to replace the ʻlaw'. He teaches further that he is true life-giving ʻbread' but that ʻbread' will now be replaced with ʻflesh'. John presents clearly the levels of meaning: Bread. Jesus. Flesh. Can you see in this text of John 6 the threads of our belief that in the Eucharist / Mass it is truly the ʻflesh' of Jesus we receive? Do you recognise the invitation following reception of Jesus to now become ʻlife-for-the-world'?
• The only way God can be truly revealed is someone must come from God and live among us. This is indeed the great religious hope of the Jewish people. However they become satisfied with the laws of God and were not ready to accept the ʻperson' of God. Jesus claims he is this person truly ʻfrom' God, has ʻseen' God. This is the claim of Christianity that sets us apart from other world religions. Because Jesus is divine – God – among – us what he promises to give us – his flesh and blood – he can and will do. As we approach the end of 5 weeks of teaching on the Eucharist consider prayerfully reading John 6. How would you explain the Eucharist now in your own words?
• What is one action that you will do to be ʻlivingtheword' this week?