Archive for the 'poverty mentality' Category
Discussion Guide:      28th Sunday Yr. B: Letting go…to commit
Reflection Questions:  • The Book of Wisdom is thought to have been written by King Solomon. Today's text links to the story of young King Solomon, newly married to a princess of Egypt, heavily aware of leadership responsibilities and following the example of his Father, King David. In 1 Kings 3:6-9 Solomon prays for wisdom – a heart to understand what is good and what is evil. Today is Solomon's reflection on just what a precious gift wisdom is. Have you ever needed to search for and find a wise person to offer direction and guidance? How would you describe your need? What happened?
• 'I chose to have her rather than the light'. Wisdom is not a 'possession' or equal to worldly wealth of Gold of Silver. It is the spiritual gift of knowing the truth and the very will of God. 'Discernment' of God's will is a discipleship skill. It literally means 'to cut away'. Consider a choice that you need to make. List the choices. Pray for wisdom. 'Cut away' options that are shallow, unspiritually motivated. Pay attention to the desire beneath the choice. Ask a wise person for advice.
• Hebrews is written for Jewish Christians struggling with persecution and the difficulties and fragility of the early christian church. They remembered with joy the clear Jewish laws and customs and the sacrificial practices of the Temple. The author of Hebrews points them to the penetrating power of the Word. Have you ever experienced the powerful and personal way the scriptures can reach deeply inside you and speak to your deepest pain and questions? Reveal you to yourself? Challenge you? Inspire you? What scripture passage has done this for you? What happened?
• The theme of wisdom is contrasted with wealth in the Gospel. A rich young man faithful to the ʻlaws' still finds himself unsatisfied in life. His question: ʻWhat must I do?' is still focused on external actions of obedience. Jesus wishes to lead him from ʻobservance of laws' to ʻliving in love'. The invitation to change the base of his security from possessions to ʻtreasure in heaven' causes his face to fall. What possessions would you be terrified of letting go? Why? Do you trust that God will supply everything you need?
• The invitation to a deeper discipleship does not necessarily require letting go of ʻwealth' but letting go of its ʻattachment'. Jesus uses an image. To get a camel loaded with items for trade through a ʻnarrow gate' in Jerusalem required unloading items, the camel sometimes having to kneel down and crawl through a small space (eye of a needle). Some scholars also suggest a misspelling of a word means it is a ʻcable' that is trying to be threaded through the eye of a needle. How would you describe your ʻuse of wealth'. Is it available for building the Kingdom of God? The needs of the poor? How much ʻsecurity' and ʻlife' does your bank balance or possessions bring you? What does this story reveal to you personally?
• Peter implies a disciples question about reward and security. 100% is an incredibly fruitful return. Normally a return would be 10%. It will be mixed up ʻwith persecutions' however. Consider asking a Priest, Brother, Sister, Christian friend how they have experienced God's faithfulness in relying on God for their security.
• What is one action that you will do to be ʻlivingtheword' this week?
Discussion Guide: 18th Sunday Yr. A – Jesus Abundantly Blesses Our Small Offerings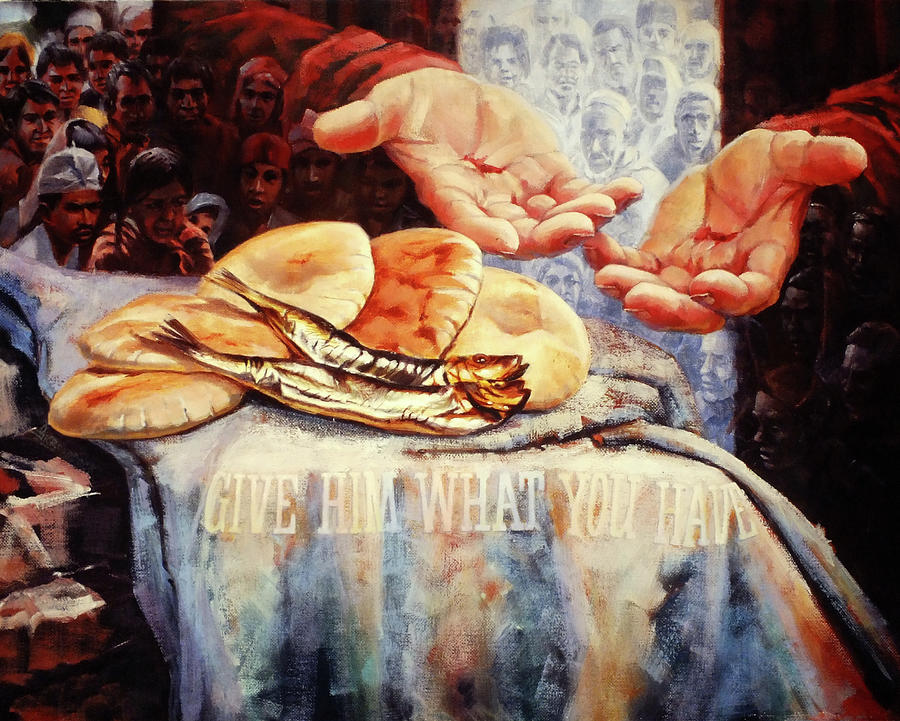 Reflection Questions:
• Isaiah 40-55 is known as 'The Book of Comfort'. God will comfort and look after his people. In ancient cultures a relationship and bond of commitment was sealed by a meal together. They also acknowledged with a prayer of thanksgiving that something was sacrificed (an animal, a grain of wheat..) in order that human beings were fed. A 'sacrifice' enabled a 'meal' which established a 'bond between the participants of a meal'. This is the basis of a 'covenant' meal in the Old Testament, the Last Supper and indeed the Eucharist Christians celebrate. God promises to feed us without money being paid. And to nourish us both physically and spiritually. Consider the gifts God gives you each day. How has God been 'feeding' you?
• St Paul himself endured being beaten, stoned, whipped, shipwrecked, imprisoned. Yet he boldly declares nothing can separate us from God's love revealed in Christ. What current experience causes you to think and feel 'separated' from Christ? Does Christ on the Cross 'bridge this gap'?
• Matthew 13 was filled with Parables on the Kingdom of Heaven, Matthew 14 is now concerned with the Kingdom of the Church and the mission of the Disciples. We are taught how we are to be and live.
• John the Baptist, the greatest prophet, has been killed. This sadness causes Jesus to retreat to a deserted and lonely place. Consider all the feelings of Jesus in losing a very close companion. Wanting silence and rest. Having a crowd chase after him. Tired and yet moved with pity and willing to give of himself. What do you learn about Jesus? About God? About yourself?
• John the Baptist spoke courageously reminding Herod he cannot marry his brothers wife. Why does the world seek to remove the 'voice' of a prophet? Have you experienced the tension and risk in being a 'prophet' today? What happened?
• Matthew is seeking to show Jesus as the fulfilment of Moses and all the prophets. Parallel to the feeding in the desert (Moses / Exodus) Jesus now feeds a large crowd in a 'deserted place' with bread. There is an abundance of food (a symbol of the great messianic age). Each Apostle is left holding one of 12 baskets of bread symbolic of the new Tribe of Israel (Church). The Disciples now have the job of feeding the hungry. Imaginatively enter the scene and pretend to be a disciple. What did you learn?
• The Disciples had a 'poverty mentality'. Jesus had an 'abundance mentality' when even a small amount of resources were offered to God. Consider your response to the 'poor and hungry' this week. What could you do with the little you have?
• What is one action that you will do to 'livetheword' this week?