Archive for the 'Truth' Category
Discussion Guide:  Baptism of the Lord Yr. C – Are We the Light of God for Others?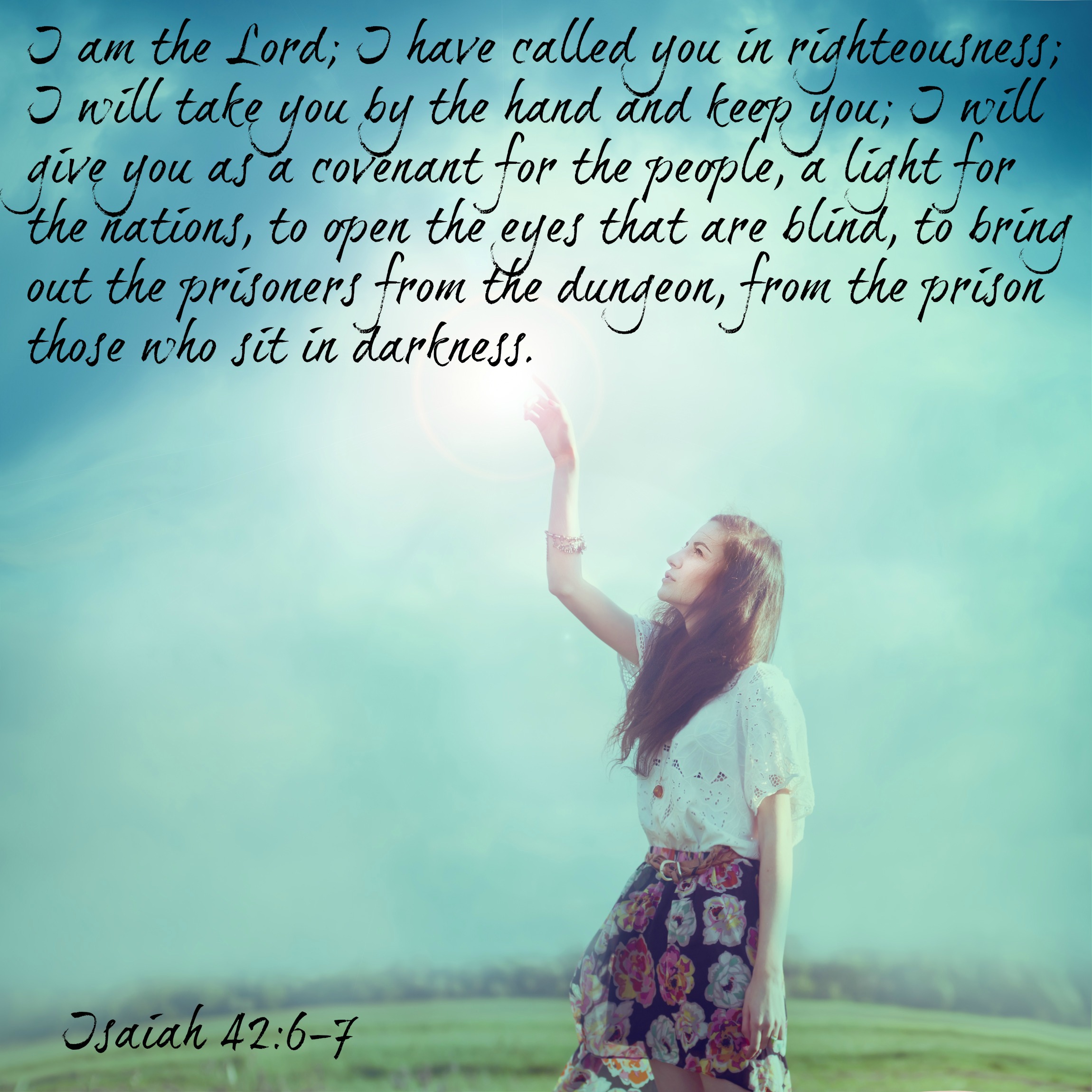 Reflection Questions:  • The prophet Isaiah speaks often of the promise that God will send a Messiah. Today's prophecy foretells Jesus' coming. Celebrating Jesus' Baptism we learn also of our own 'job description' to live following Jesus' lifestyle and example in the world. Have you made your baptism personal and meaningful? What does it mean for you to be: 'chosen', 'upon whom I have put my spirit', 'bring forth justice'. Called personally for the 'victory of justice'. Have you recognised God trying to take you by the hand and form you, ask you to be an example and light for others? Transform peoples lives who are blind and suffering in darkness?
• Acts 10 is a very important chapter and experience in the life of St Peter. Peter was Jewish and was brought up in strict observance knowing what was 'clean' and 'unclean'. Non Jews (Gentiles / Greeks) were considered 'unclean'. If you entered their home or ate with them you became 'unclean'. Peter is told by God to go into Cornelius' home (He was a gentile and a despised Roman soldier!). Peter has a significant conversion of the mind…. 'people of every nation are acceptable to God'. Who do you consider to be 'clean' 'unclean'? What obstacles did Peter have to overcome to go into Cornelius' house? What obstacles do you have to overcome?
• It was a custom for disciples to carry the masters sandals. It was a sign of discipleship. The image John shares is he is not even worthy to bow down and undo the sandals of Jesus. The holiness and distinctiveness between John and Jesus is emphasised. Why? • Historical and theological writing is present in this Baptism scene of Jesus. Isaiah had cried out to God in the Old Testament – open the heavens and come down! Now the clouds are pushed apart, the spirit of God descends and God's voice is heard. Here he is! The Messiah. The promised one. My Son. Imagine being at this scene. Imagine this is your baptism scene. What do you feel? Think? Fulfilling the Old Testament Prophecy of Isaiah, do you accept your baptismal 'job description'? • You may have been too young to remember your own baptism. It does not mean that you cannot now become conscious of what happened and what it means 'today'. A special prayer was prayed over you as party of your anointing 'christ-ing' that you be a Priest, Prophet and King. Your call is to be a
• Priest – bring the world to God and God to the world
• Prophet – listen to the scriptures and speak God's word of comfort and challenge to the world
• King – to lead the world not follow the world.
• How could you grow in awareness and expression of your God-given calling?
• What is one action that you will do to be 'livingtheword' this week?
Discussion Guide:  Christmas Yr. C Day Mass – The Word Became Flesh!
Reflection Questions:    • Christmas Story – The Master and the Puppy. C.S. Lewis is well known for writing children's stories. He was also a committed Christian and wanted to express deep theological truths simply. He explores Christmas – the Incarnation of Jesus with an illustration of a Master and his puppy.
• Imagine. You have a puppy. If you really loved your puppy how could you show your love to it? Wash. Cuddle. Feed. Brush. Exercise. Allow inside by the fire…..etc. As the Master of the puppy, how about while still holding onto your human condition you take on fully the condition of becoming like your puppy? Sharing its life totally and fully? You have entered the world of your puppy so that you can be with your puppy totally and reveal just how much you love your puppy. Would you do this? God has with us. What would you have to let go? What has God had to let go? What is your response to this truth at Christmas?
• 'The Lord bares his holy arm' is an image of God 'rolling up his sleeves' to get stuck into the work of salvation. Rolling up one's sleeves recognises the work may get messy. The Incarnation is God entering our messy world. Is this good news for you? Why?
• Today's reading from Isaiah brings us the original meaning of 'Good News'. It was a messenger running back from battle with news of victory – good news! The messengers' feet were beautiful as they brought a joyful message. Do you 'carry' a message of joy and peace in your heart because of Jesus?
• The Letter to the Hebrews is essentially a long sermon explaining to Jewish People and Jewish Temple Priests the significance of Jesus' birth, life, death and resurrection. Jesus is the 'Son' of God, and 'the very imprint of his being'. Some translations use the phrase 'the perfect copy of his nature'. The Letter to the Hebrews also had to make clear that Jesus was above the angels and not an 'intermediary' or angelic 'messenger'. What words or ideas best explain Jesus' identity for you?
• In the Gospel of John, Jesus is given the title 'Word'. Your 'word' expresses your deepest being. Is intimately 'you'. It is self revelation. Jesus = Word is a creative way of teaching us about Jesus' identity and being one-with- God. 'In the beginning' is John's way of referring back to Genesis 1,1 and the existence of Jesus prior to creation. The great climax is the 'Word became flesh'. The Hebrew language states God 'pitched his tent among us'. It is this truth that writers call 'the marvelous exchange'. It is this truth shown in the crib scene of Jesus and Mary and Joseph. We look on in wonder. How could you be surprised by the 'incarnation – enfleshment' of God among us at Christmas again?
• What is one action that you will do to 'livetheword' this week?
Merry Christmas from livingtheword
Discussion Guide:    21st Sunday Year B: Do you believe in the 'Holy One Of God?'
Reflection Questions:  • Joshua leads God's people from their long journey in the desert (Exodus) into the 'promised land'. Shechem (meaning 'shoulder) is a very important geographical location and an ancient place of worship linked to Abraham. It is the entry point between two mountains. Today is truly a 'crisis – a 'decision' time: will they worship the local gods or Yahweh their LORD? We all place our lives down in service of something. What 'worship' temptations do you struggle with? What. Where. How. Who…. do you worship?
• Have you experienced in your life journey being led 'out of a state of slavery'? Being protected mysteriously along the entire journey of your life among many peoples…? What are some significant 'God moments' of your life journey. How might reflecting backward help you live forward?
• A warning. Today's 'Household code' has been very misunderstood. So misunderstood one option today has the first 4 verses deleted to make a shortened reading. Greek philosophers wrote about the behaviour of a 'home'. Jewish and Christian writers also used this idea but changed its meaning significantly. Notice a biblical rule of thumb, the bigger the problem, the more text. Men get 4x more!
• A basic starting principle is being ʻsubordinate' or ʻgive way' to one another because of our relationship with Jesus. A ʻgive way' sign stops crashes. This ʻcode' of behaviour' is seeking unity. If the wife is to be in imitation of the bride the ʻChurch' and the husband is to be in imitation of Christ, can you see how the typical cultural view of the time is being turned upside down? What challenges you personally in this new ʻfamily code' of behaviour?
• Paul places the relationship of marriage into the beautiful mystery of the marriage relationship between ʻChrist and the Church'. In the celebration of the Eucharist the bodily language of love is expressed with the gift of Jesus' body and blood being received by the Church bringing a one-flesh Holy Communion. How could you make this reception special, more intimate, meaningful? Consider creating your own personal prayer to pray in silence after communion.
• Today is a crisis – decision time for disciples. Is Jesus a man with strange teaching or the "Holy One of God" teaching Truth? Accepting Jesus will give his Body and Blood is ʻhard' for them. They are shocked. Their minds and expectations cannot grasp this large and challenging truth The mystery of God leading the heart and mind into belief is involved. Who and what has helped you in your journey of discovery of the Eucharist? Has your journey of faith reached a decision making step of belief in the real, true, substantial presence of Jesus in the Eucharist? Do you believe?
Jesus, we thank you for your teaching over the past 5 weeks on the Eucharist. You are who you claim to be – the Holy One of God. Your words are filled with the Spirit and they are Truth. We know and believe that in you God has come to meet us and be with us. We believe in you. We receive you. We follow you. We live for you. Amen.
• What is one action that you will do to be ʻlivingtheword' this week?