Posts Tagged 'Church sent on mission'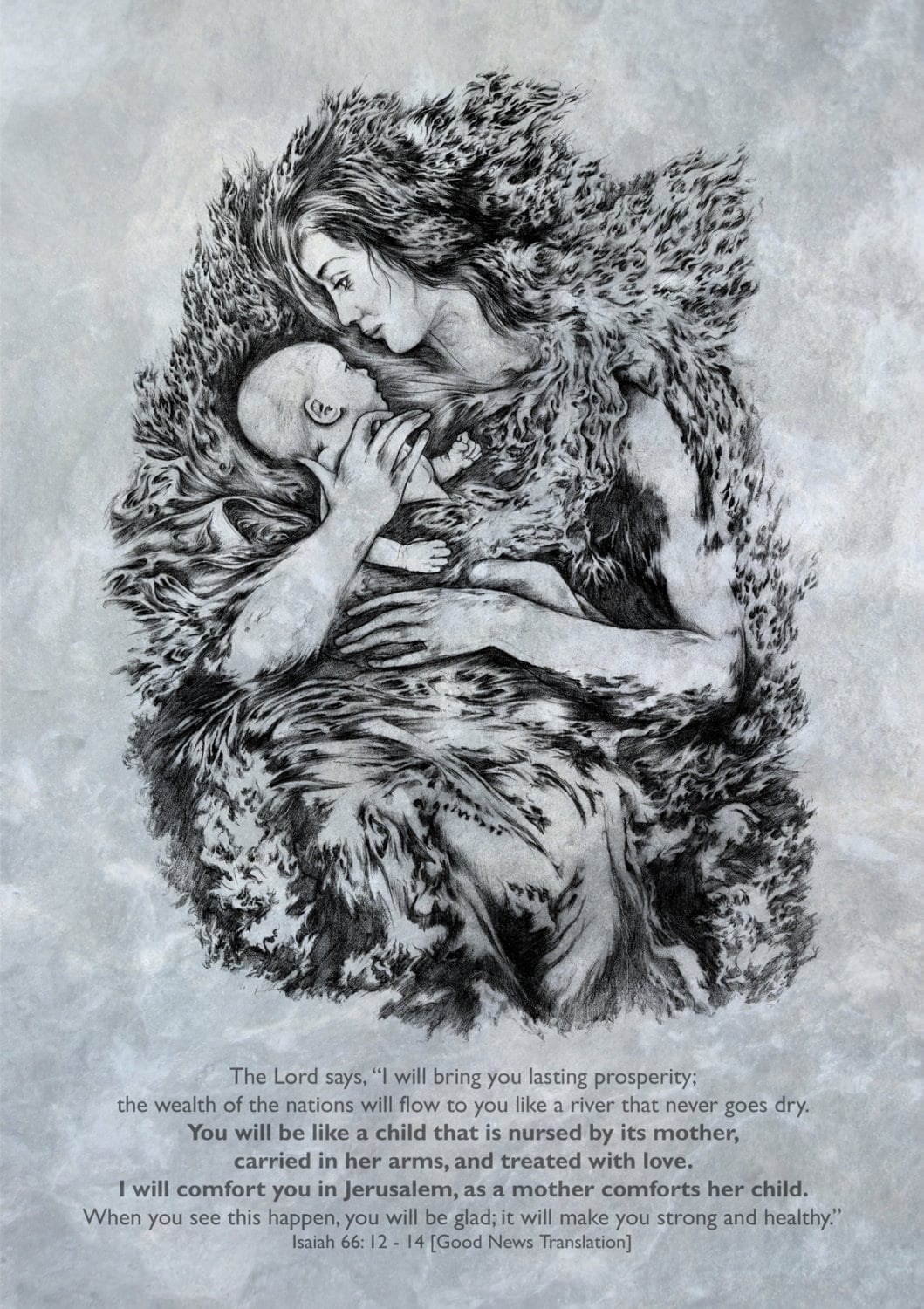 Discussion Guide: Disciples are Missionaries of Peace 
Readings: Is.66:10-14, Gal. 6:14-18, Luke 10:1-12, 17-20
Reflection Questions
• Isaiah provides a very intimate feminine image of a baby being comforted at a Mother's breast to symbolise the return of exiles back to Jerusalem. It is one of the most cherished images of God's love for sinful humanity. Some commentators share this as a feminine image in the Old Testament to the Compassionate Father in the Prodigal Son Gospel story. Try replacing ʻJerusalem' with your own name. What feelings are stirred within you? If the Old Testament ʻJerusalem' is now the ʻChurch', which sacraments provide us with this tender grace of love?
• St Paul leads us into a deeper discovery of the meaning of the cross. The cross does not only give us Jesus' forgiveness of sins but reveals a rule and ʻlife-style'. Christian disciples are now drawn into away of living that reveals they are ʻcrucified to the world'. Many worldly attractions are no longer top priorities. My life direction and purpose is now in Jesus and for others. Consider what your deepest desires are and what you are really living for? If 1000 people lived your ʻlife-style' what sort of world would be emerging?
• Jesus sent out 72 people – the number of known nations in the world. He urgently seeks to bring people to God – and to dethrone Satan's power in the world. Have you ever thought of a ʻmission' project that is bigger than yourself and requires others to help? What would you need to do to start the project? Have you been attracted to a project? What happened?
• Take no money, no bag, no extra shoes, don't be distracted by talking to anyone on the way to your job, and don't jump from house to house to seek comfort. A serious challenge! Disciples are to be detached from any security other than their relationship with Jesus. They only
resource they bring is ʻpeace', and working and praying in Jesus' name to ʻcure the sick'. Can you identify anyone who lives this ʻabsolute  trust in God  lifestyle' as an example for you? Has their inspiration changed anything in you?
• Jesus warns disciples to be ready for rejection. Peace not anger and argument are trademark signs of Christian disciples. Have you had the courage to witness to Christ? Have you shared ideas and projects that were not ʻreceived'? Shaking of the dust was not done individually but
by a ʻpair'. Why do you think it was important for Jesus to send out disciples in ʻpairs'? Who could you have as a ʻpair' to journey and share with – especially in the rejection moments?
• Jesus did not delay sending people out on mission until the disciples were complete and perfect. I need more formation. I'm not good enough. I'm not confident enough. I'm too broken and sinful are easy responses to NOT engage in mission and ministry. Sometimes we need prayer-filled focus. What is God asking of me and what is the next step in ʻdoing it'? ʻBehold, I have given you the power…..
• What is one action that you will do to ʻlivetheword' this week?
www.livingtheword.org.nz e-mail: nzlivingtheword@gmail.com Livingtheword weekly download and resources are created by Fr Frank Bird sm, a Priest of the Society of Mary and distributed by Marist Laity Auckland, NZ. www.maristlaitynz.org
Download Pentecost Sunday Yr C
Reflection Questions
Pentecost was a Jewish harvest feast which also involved a liturgical celebration of bringing water into the temple and pouring water from the side of the altar. Life-giving water would symbolically flow from Jerusalem and give life to the whole world! Jesus fulfills and replaces this Jewish feast saying that out of him will flow life-giving water (Jn 7:37-39). What does this image of Pentecost teach you?

Pentecost is the reversal of the Old Testament Tower of Babel story (see Gen 11). Humankind's sin and self importance building the tower to reach and equal God eventuated in the scattering of people and the confusion caused by different languages. The gift of the Spirit at Pentecost unites people and leads people to understand each other and the christian message ʻin his native language'. What does this suggest is the true function of the Holy Spirit in the world? In the Church?
Paul wrote to the Community at Corinth because some people who didn't have the gift of tongues were considered inferior. It was causing division in the community. One gift was not to be stressed over another. Everyone is gifted What gift do you find easy to share and benefit others with? What gift do you feel you would like to develop more and use for God and the community? The Spirit and ʻgifts' are connected to the ʻbody'. Which part of the ʻbody' do you identify with your gifts – eyes, head, heart, hands, mouth, ears. How do you show this in your daily life?

Jesus is able to pass through locked doors to offer peace and forgiveness. What ʻlocked doors' are present in your life? Use your imagination in a time of prayer and allow Jesus to meet you on the other side of these locked doors….. what happened?

The Spirit sends the Disciples / the Church ʻon mission'. The Church is as it were ʻplugged in' to a living power moulding all into the image and consciousness of Christ. Pentecost fills the Church and allows the Church to be the extension of Jesus' ministry in the world. What feelings and thoughts arise in a person when they are ʻsent'? Are you conscious of being sent out by the Father to ʻrepair the world'?
In the Gospels and Acts of the Apostles the Holy Spirit had a difficult time in getting the disciples out from hiding behind locked doors and praying in the temple and in people's homes. It was only persecution in Jerusalem that eventually caused the light of the good news of Jesus to be given ʻto all the nations'. Welcoming gentiles into the christian community was a huge obstacle and struggle for Jews who were the first christians. What are the big obstacles to unity and inclusion in the Church today? How could the Church be more reconciling in the marketplace and with those the world ʻexcludes'?
What is one action that you will do to be 'livingtheword' this week?
Annual Appeal for Donations. $155 received, $145 more needed. Thanks. Click here for details.