Posts Tagged 'Gospel of John Signs'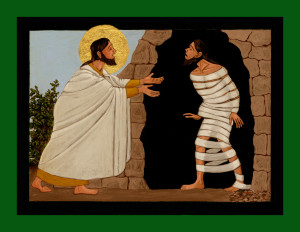 Download Reflection Document: 5th Sunday Lent
Reflection Questions
Ezekiel is an interesting person. He was both a prophet and a priest. He was also taken away with the first group of Israelites into exile. He shares a positive and hopeful message to his people. God will turn this situation around. Name a difficult struggle you experience in your life. Can you see a slow transformation and wisdom in the midst of your suffering? What does the deep voice of the spirit invite you to do so you can 'rise from your grave'?
St Paul uses the word 'flesh' (sarx) to mean people who have a selfcentred orientation towards the world. Frequently those who live this way make themselves, their senses and pleasure, their 'idol' / god. Those who live directed by the spirit of Christ are turned outward in love and 'self-lessness'. Ponder the powerful bodily image of arms wrapped around yourself tightly, or arms open and outstretched in embrace of the world. How do you live your life? How is your almsgiving this lent?
In the Gospel of John Jesus performs 7 signs. Each sign is a fulfillment of a Messianic hope from the Old Testament. Each sign reveals the presence of God in Jesus. Today is the 7th and most important sign. Jesus overcomes death. And only God can overcome death! Place yourself in this gospel story. If you were really there in this scene what questions would you ask? What would you believe from this experience?
Martha's questions reveal a growing knowledge of who Jesus really is. She begins with Jesus as someone close to God – "whatever you ask, God will give to you." Jesus responds to Mary's belief in the resurrection on the last day with a powerful statement: Mary, the one who is in charge of the resurrection is looking at you! I AM the resurrection and the life. And to prove it, Jesus raises Lazarus. What does Jesus wish to reveal to Mary? Do you see the 'sign' and believe what it is pointing to?
The Rabbi's believed and taught that the spirit and breath of life hovered around a dead body for three days. Waiting for 4 days can be understood as Jesus ensuring everyone knew Lazarus had truly died. Twice Jesus is 'perturbed' or angry that someone he loves has been tied hand and foot and buried. (A symbol of what sin and death can do to us.) Untie him and let him go becomes a fulfillment of Ezekiel's promise (1

st

reading) and an image of what Jesus can do personally for each disciple. What tomb am I in? What cloths bind me up? Who might God be using to 'take away the stone' blocking me from joy and life?
What is one action that you will do to be 'livingtheword' this week?
Download Reflection – 17th Sunday Yr B
Reflection Questions
Over the next 5 weeks, our scripture readings focus upon the events of God feeding his people. We depart from the normal Gospel of Mark readings from Mark chapter 6 and are placed into the Gospel of John chapter 6. The next five weeks provide an opportunity for prayer and deeper reflection upon the Eucharist and its meaning for our lives.
Jewish people recognised miraculous events of Prophets feeding God's people with bread symbolised God feeding his family and satisfying their hunger. It was normal to bring Barley – which was harvested around the time of the Jewish passover – to the temple as an offering. Significantly, because the temple in the North (Gilgal) was following false Baal worship the bread / barley offering is presented to a holy man (Elisha) who distributed it to the poor.  Do you experience the prophetic connection between worship and being fed and 'morality' – now feeding the poor of the world on behalf of God?
Last week we heard Jesus has united us all together – Jews and Gentiles. Paul encourages us 'to live in a manner worthy….' showing this unity. How do you experience disunity?
Imagine your life, relationships, work-place. How could you practice unity-creating virtues: humility, gentleness, patience, bearing with, striving to preserve unity, maintaining a 'bond of peace'? What is your biggest challenge?
Because the Gospel of Mark (Yr B) has only 16 chapters, we jump into John chapter 6 for 5 weeks to explore Jesus' feeing the 5,000. The story of Jesus feeding with 'bread' is told 6 times in the Gospels. John is the most theologically full with special words and meaning. It is around the Jewish Feast of the Passover. At passover Jewish people remembered Moses the great prophet feeding them with 'manna in the desert'. The promised Messiah (King) would also do a miraculous feeding. We notice in each of the three Passovers of Jesus' public ministry (Jn 2, 6, 19) the passover is fulfilled and replaced 'with his body'. 5 loaves and 2 fish = 7 the perfect Jewish number indicating a perfect feeding. Taking the loaves, gave thanks, gave it to distribute, gather (synagein), fragments (klasma) are all special words used by the early church for the celebration of the Eucharist. Twelve indicates 'all Jewish tribes / people'. What do you make of all these 'clues' in the reading today? What does this story now mean for you?
In the midst of large crowds who are hungry, Philip offers no solution. Instead he remarks it will cost so much to fix this problem, 2/3rds of a years wage! What thought or feeling decides your (in)actions: cost or compassion? Do you offer your small contribution of money or compassion, or give up in the sight of large injustice / poverty / hunger?
The crowds 'see' the sign Jesus has worked, think of him as 'truly the prophet' they have been waiting for – the Messiah. The one promised. They wish to make him King. A Political Ruler. Why do you think Jesus 'withdraws'? Why is the 'lifting up of Jesus' on the cross the enthronement moment in the gospel of John?
What is one action that you will do to be 'livingtheword' this week?