Posts Tagged 'Gospel of Matthew'
Discussion Guide:      1st Advent Yr. A – Advent Witness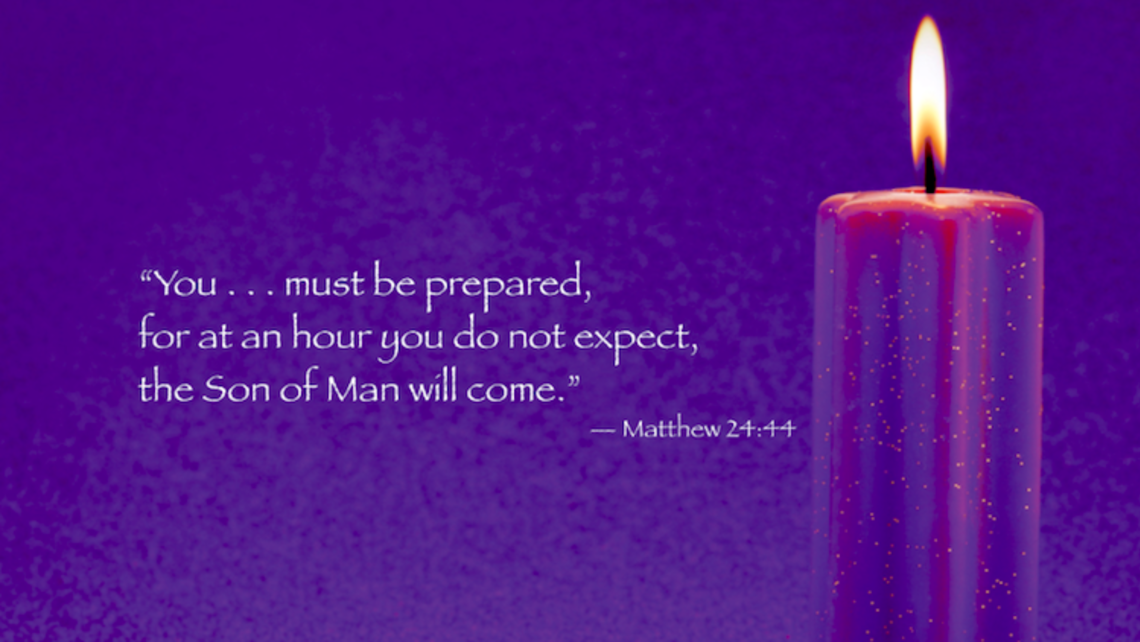 Reflection Questions:
• The 1st Sunday of Advent marks the beginning of a new 'season' – and a new Year (the Gospel of Matthew). Advent prepares and challenges us to be ready to welcome the second coming of Jesus while also turning us to celebrate and remember with joy the first coming of Jesus. How will you celebrate both Advent and Christmas? What do you do to prepare to welcome someone special? How could you apply those ideas to the 4 Advent weeks of preparing & waiting?
• Isaiah was written during war and injustice. It reveals that the relationship with God impacts all humanity and the environment, not simply our hearts. Swords & spears becoming farming implements suggests the in-breaking of radical peace and love itself; our true hope of transformation. Isaiah reminds us that God makes the movement toward us as the Lord's house is established and raised up for us. What connections can you see with the hope we have in Jesus birth? What does it mean to walk in the paths and the light of the Lord?
• What does it mean for you to 'awake from sleep', 'put on the armour of light' and 'put on the Lord Jesus Christ'?
• Jesus uses 3 short parables to wake his hearers. To survive a sudden flood needs preparation. Society encourages overeating, drinking, and spending on stuff at Christmas. What impact does this have on families and the environment? How does it feel to be a Noah when the world doesn't appreciate your faith perspective?
• Imagine discovering that someone you see everyday is different than you believed. Parables shock to provoke change. Do you want to deepen your relationship with God or go with the crowd and be left alone. God sees us differently. What deep longings and hopes would divine perception see in you?
• To stop a thief entering your house you have put in place certain practices or habits (locking doors and windows, turning lights on, having mail collected by a friend…) so that you are 'always ready' 'awake'. What spiritual practices could you commit to, to help you constantly keep 'spiritually awake'? Have you ever been 'broken into'? What did you change after the theft? What is the wisdom Jesus wants us to apply to daily Christian life?
• A famous retreat leader had hundreds of excited people waiting for very wise words and deep insights into their problems. He arrived at the microphone and asked: 'Hands up who wants to go to Heaven?' Everyone put their hand up. 'Hands up those who are ready to go now'? No- one put their hand up. He said: you may consider asking yourself why you are not ready… Are you ready?
• What is one action that you will do to be 'livingtheword' this week?
Download 14th Sunday Yr A
Reflection Questions.
Zechariah makes a prophesy that the Saviour will enter Jerusalem riding on a donkey. Horse and Chariot were symbols of power and war. A donkey was a symbol of humble work and peace. Horse and Donkey. Power and Humility. Violence and Service. Why does the world favor a horse, God a donkey?
"Meek" is a word mentioned twice in todays readings. It comes from a Greek word meaning 'not easily provoked'. Like a person feeling anger and yet staying in full control, able to turn it to justice rather than violence. Meek people lead the way in reconciliation, healing. Who could you identify as 'Meek'? What practice could you adopt to develop a meek character?
'Flesh' is St Paul's expression talking about a life that is lived without God, like an animal following only its senses. A 'Spirit' led life is a life open to God and turned outward in love. How do you experience the disciples tension of 'flesh' and 'spirit'? Which life do you feed and nourish?
Back into Ordinary Time we return to the Year A Gospel of Matthew. In chapters 11-12 Matthew is teaching about Jesus' identity as the Messiah. Matthew has Jesus replace Moses as the great teacher. Jesus is the Wisdom of God. Jesus is greater than the Torah (Law given by Moses) and all the Prophets. 'No one knows the Father except the Son and to whom the Son wishes to reveal him' is a knowledge claim by Jesus. What does this statement mean for you?
Jesus remarks how great learned religious figures (Pharisees and Scribes) cannot accept him, yet 'little ones' (the poor, those without learning, workers of the land) accept him. It is not necessarily learning that has proven an obstacle but pride and position. Within those who are 'comfortable' and 'satisfied' grows an inability to be 'open'. Are you satisfied? Have you made Jesus comfortable? What challenge of Jesus do you find hardest to be 'open' to?
The Torah (OT Law) handed down by Moses required knowing and being obedient to 613 laws. This was a 'heavy burden'. People felt oppressed by the rules and those enforcing them (Saducees, Scribes, Pharisees). Jewish people referred to this as the 'yoke of the law'. Jesus invites a radical change. 'Come to me' all who are feeling heavily burdened. I will give you rest. Put on my yoke. Learn from me. The Torah is being replaced by the person of Jesus. A wooden 'yoke' put around the bullocks neck was tailor made to avoid painful imbalance. In your disciples journey, how are you experiencing the 'yoke' of Jesus? Are you trying to do and carry more than is required?
What is one action that you will do to 'livetheword' this week?