Posts Tagged 'Mary'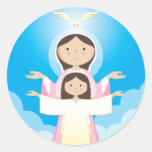 On Thursday 15th August the Church celebrates the Feast of the Assumption. This is the Patronal Feast Day for New Zealand. To acknowledge this a special livingtheword reflection is posted for this celebration.
Download Feast of the Assumption
Reflection Questions
The Assumption of Mary. Pope Pius XII asked all Bishops in 1950 if their congregations believed that Mary was assumed into heaven. 98 percent answered Yes. The Pope recognised that God was speaking through the Church and the sense of faith of the ʻfaithful'. Mary's assumption – being taken up – does not mean she did not die but after her ʻsleeping' she was taken body and soul into heaven. We as Christian disciples hope to follow after her.
Christian interpretation has often seen in this first reading the figure of Mary. However the early writer was not writing of Mary but the figure of ʻIsrael' – God's People – The Bride – The ʻChurch'. The Church giving painful birth to disciples is in tension with the dragon who has worn a variety of faces. The Roman Empire seeking to crush Christianity. Persecution of Jewish leaders on the growing sect of disciples in Jerusalem. Reading the passage with this background what strikes you? What face of the dragon have you experienced trying to ʻdevour' your discipleship?
On Special Solemnities the selection of readings seeks to teach deep truths of faith. St Paul writes of the first-fruits the first offering back to God. Jesus rises first… and then each one in proper order those who belong to Christ. Do you consider it fitting and right that Mary is ʻtaken up' first to enjoy the resurrection with her son? What is your response to the feast of the Assumption of Mary? What does it teach you? Mean for you?
The historical site of the Visitation is in the small village on the outskirts of Jerusalem called ʻEin Karem'. In the Church of the Visitation there are large bronze figures of Mary and Elizabeth, their two pregnant tummies almost touching as they greet each other. A conversation happens between Elizabeth and Mary, but also between John and Jesus. The Old Testament is meeting the New Testament. Zechariah, the High Priestly family, the Jewish Priesthood, is meeting the New Priesthood of Christ. God's promises of old, now fulfilled. The long waiting of the Old Testament is now turned to ʻleaping for joy'. The Ark of the Covenant which King David ʻleaped for joy' before (2 Sam 6,5) is now fulfilled with John leaping for Joy before Mary, bearing Christ and the new covenant'. In the baby and disciple John we see our own leaping for joy in the Church before the Eucharist. What image strikes you the most? What could it teach you for your life?
The Magnificat of Mary rejoices in her Savior, but it is not in a timid tone of a young virgin. Luke places on Mary's lips a battle cry. A great reversal of life and fortunes is happening. She who is lowly, from a humble rural town, has had great things done ʻfor me'. The world has been tipped-up-side-down with everyone falling from their positions and posessions. In Mary's religious and prophetic prayer we glimpse the great reversal that Jesus will accomplish in his mission. What does casting down the mighty and lifting up the lowly mean to you?
What is one action that you will do to be ʻlivingtheword' this week?
Download 2nd Sunday Yr C
Reflection Questions
This Sunday marks the beginning of 'Ordinary' Time. The season of Christmas has ended. Isaiah is among the group of Jewish exiles who return to Jerusalem (Zion). They see a city in ruins. Some wish to return to Babylon. Isaiah sees in hope and envisions a city shining beautifully 'like a burning torch'. When some think 'Foresaken' Isaiah thinks 'My delight'. When some see 'desolate' Isaiah sees 'Married'. As you look at Yourself, the Church and the World, what do you 'see'? How do you think God 'sees' You, the Church, the World? Do you need to move from self condemning thoughts to rejoicing thoughts? Imagine God wanting to dance and rejoice with you as if in a marriage dance. What are your feelings…..

St Paul is concerned about people in the Corinthian community who consider only christians who have the gift of tongues have great spiritual powers. Self righteous people have hurt others in the community. St Paul wants to heal the community and remind people there are many gifts – (and he places tongues last!). What gifts have you noticed within you? In others? What area of need in the Church matches your passion, energy and 'gifts'? 

Have you ever invited someone to do something and their response was 'I'm not quite ready'. Its not the right time. Mary encourages her son Jesus into public ministry today – and does not get put off with his response! But Jesus reminds 'this woman' his 'hour' is something deeply personal and between him and the Father. Have you reached a point in life when your 'hour' is near? Is it time to commit to a public witness of your faith? To ministry. Single life. Marriage. Religious life. Priesthood? Will you listen to the Father? Have you had a 'Mary' person ask and invite you into service? What was your response?

'They have no wine' is a reflection on the water jars which were used for purification and ritual cleansing. The jars are symbolic for the Gospel of John. Striving to be clean and not 'unclean'. Judaism was strict. It was hard work being in right relations with God. There were so many laws and rules to obey. There was no joy – no wine. In Jesus' first 'sign', Judaism (Water) is replaced with Christianity (Wine) which is ultimately pointing to Christ's blood poured out on the cross forgiving us – cleansing us. What is the difference between 'water' and 'wine'? Is your spiritual journey like water or wine? 

The Jewish people had a prophecy that when the Messiah came there would be an abundance of great wine. Jesus' first public 'sign' in the Gospel of John is to enter a marriage ceremony and replace water with $15,000 of the best wine at the wedding. What do you think this reveals? For John, a 'sign' points to a deeper reality. Do you 'believe'?

What is one action that you will do to be 'livingtheword' this week?
Download Feast of Holy Family 
Reflection Questions
Today the Church celebrates the Feast of the Holy Family. Each of the readings provides a reflection on how family life is lived so as to lead us into 'holiness'.
The Book of Wisdom – or Sirach – arrives at a reflection on the commandment to Honor one's Parents. Implied is a respectful relationship between Parents and children. The covenant relationship with God is mirrored in relationship to Parents. This relationship is indicated by prayer and obedience, forgiveness and justice. Consider the ups and downs Mum and Dad have been through in raising your family. How do you currently show and practice 'thankfulness'? As Parents grow old, 'the mind fails' what do you do that may 'grieve them'? How do you show 'kindness'?
 Family life has struggles and difficulties. The Community of Colossae that Paul is writing to is struggling greatly with Jewish christians being open to welcoming 'Gentiles – Greeks' into the community 'family'. 'Put on' is referring to the white garment of baptism and the new life of Jesus that we live. Who is included or excluded in your family? Which attitude do you recognise could be practiced more by you in your 'family'. How could you allow 'peace' to control your heart?
 Subordinate – "under" – reflects the customs of the early Roman times. Christians were keen to live by the 'family code' to show Roman authorities that they were not dangerous to government. What 'order' do you have in the family? Home? How is 'bitterness' resolved? What arguments arise over children's behaviour and obedience? What attitudes or behaviours 'provoke' and 'discourage' your children? Does the Word of God dwell richly in your home? Is there any singing and praying and showing gratitude to God?
 Around the age of 12 a young boy would leave the company of Mum and the woman and mix and be led by the Men. Perhaps this transition is reflected in the scene of Jesus getting 'lost'. Joseph may have thought the boy had gone back to Mum. Mum had pondered the boy was now more the responsibility of Joseph and he had things under control! Strikingly Jesus is shown as obedient to the will of the Father and sits in the midst of teachers of the law in the Temple to discover what this 'will' involves. Holiness is marked by doing the will of God. What desire or call of love, justice, truth, integrity, self gift is in your heart? What commitment are you called to be faithful to as an expression of the will of God?
 Consider how challenging it was for Mary to say Yes. What challenges did Joseph face in saying Yes? How do Mary and Joseph (Parents) cope with Jesus identifying his own individual call in choosing 'the Father's house'? Do you see the 'Holy Family' as exceptional and perfect or can you glimpse the normal family struggles of your own family life in them?
 What is one action that you will do to be 'livingtheword' this week?