Posts Tagged 'Persecution'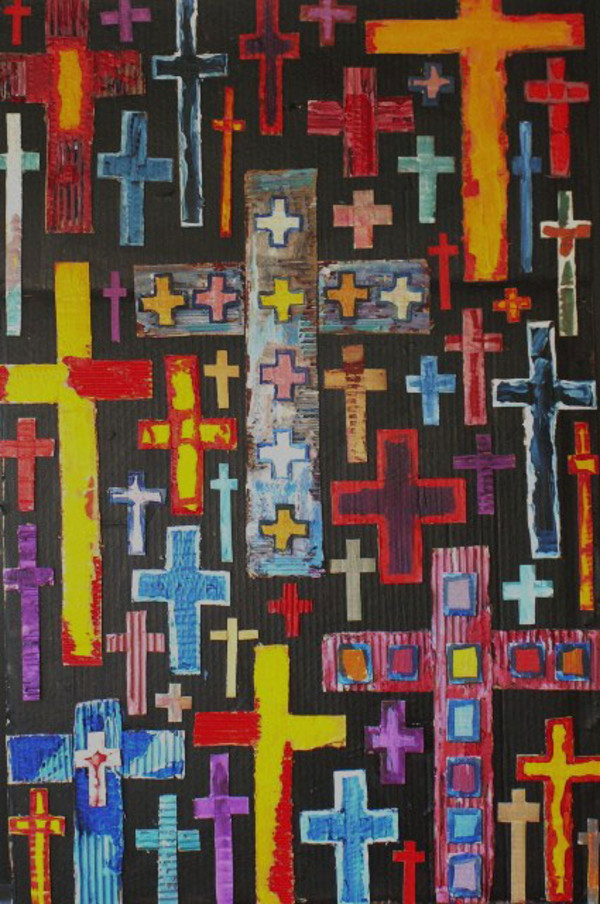 Download 12th Sunday Reflection Document
Reflection Questions
The Old Testament readings are often fulfilled by Jesus in the New Testament Gospel Reading. Hadadrimmon is the special mourning place for King Josiah who called his people to change and repentance but was killed in battle in the plain of Megiddo. Have you experienced a special place where you ʻturned' to God?
Paul writes to the community in Galatia and is upset with Jewish Christians misleading newly baptised people. He writes to them teaching them that obeying all the Jewish Laws does not ʻsave' us. We need to get the right starting point of our relationship with God. Do you think more about what you could do for God (obedience to the law), or what God has done for you in Christ (unmerited and unconditional love for sinners through his saving death on the cross)? What is the correct starting point for Paul and why?
Paul writes in this letter using a very early baptismal prayer. All barriers of culture and race (Jews / Greeks), gender (male / female), social standing (slave or free) have been dissolved by baptism and following Christ. What barriers and walls between people upset you? What barriers are present in your own life / attitudes?
It is strange that Jesus rebukes Peter for his answer. Jesus wants them to be silent before they truly understand what type of messiah / Christ Jesus is. It will not be the military glory of public expectation but a suffering messiah who is rejected and killed before rising again. This requires a completely new mind-set. For Jewish people and Jesus' followers it was shameful to suffer and die. It is the obstacle that Jews cannot overcome. Jesus therefore cannot be the Messiah. What do you think?
Jesus speaks now to ʻall' followers to take up one's cross. The wooden ʻcross' in Jesus' time was an instrument of death used to kill revolutionaries. It is shocking for Jesus to tell his followers they must ʻtake it up'. Have you ever thought of Jesus' requiring his disciples to be radical revolutionaries and being willing to ʻdie' for his values? What does ʻtake up your cross mean to you?
The context of Jesus' words are not of a one time martyrdom or death, but a daily' sacrificial living. And it is not ʻdaily burdens' but something far deeper. Jesus invites disciples into the posture of a condemned person awaiting a death sentence. No worldly attachments are present now. Everything is stripped away by the ʻdeath' sentence to ʻself'. There is to be no holding back. Have you ever considered religious or priestly life as a deeply freeing experience of letting go to give ʻall to Christ'? What excites or scares you about such a call?
What is one action that you will do to be 'livingtheword' this week?
Download Feast of Christ the King Yr B
Reflection Questions
As we celebrate the Feast of Christ the King, there is an urgency in the readings to 'prepare' and 'be ready' for the end of time. Fr Anthony De Mello, a famous preacher and teacher once began a retreat by asking: Hands up if you want to go to heaven. All eagerly put their hands up. He responded. Hands up if you want to go to heaven now. No hands went up. He suggested they think about why they were 'not ready' and he walked out of the room! If Jesus' birth at Christmas was also the 'second coming' what would you be inspired to do so that you were 'ready' for Christ?
The Book of Daniel is written to encourage Jewish people during a time of great persecution. Mighty armies, Kings, powerful empires would cease and be silenced by the 'Son of Man'. This is an enthronement vision of Jesus before God the Father. In the midst of super-powers and battles for resources and status do you view the world and history with 'hope' that the way of Jesus will be victorious? When you look at the cross of Jesus do you see only pain? Or victory?
Apocalypse is a Greek word meaning 'revelation' or 'unveiling'. Apocalyptic writing seeks to give hope to those suffering. It will end. Jesus will triumph. This truth has been 'unveiled' in visions which make up the Book of Revelation. 666 (the Beast) was the spelling of Nero Caesar in the Semitic alphabet who blamed Christians for the devastating fires of Rome around 90 AD. Domitian who persecuted Christians in the East around 95 AD was thought to be Nero come back to life. What form of persecution do you experience as a Christian? How may the words of Revelation encourage you: Jesus (was) is faithful. Was raised from death.  Rules over all kings. Loves, frees and forgives our sins by his blood. Made us priests – called to bring the world to God and God to the world. How could your persecution become an opportunity for witness? For God?
In Year B readings on the Feast of Christ the King, Mark readings are left aside in favour of the Gospel of John and a curious debate about the meaning of 'King'. Jesus is face-to-face with Pilate symbolising secular and political power. Pilate asks: Is Jesus a 'worldly king' or the mysterious Jewish figure spoken of as Messiah? Jesus teaches 'king' and 'kingdom' need a new definition to cope with God's viewpoint. Such a king and kingdom has not existed in 'the world'. The Kingdom of God involves not being served, but serving. Non violence. The true 'King' is one who gives his life 'for others' not seeking wealth comfort and personal security. Jesus 'came into the world' to bring this reality and truth into existence. What 'kingdom' do you 'belong' to? Domination, Power, Prestige or Love, Justice, Service? Pilate or Jesus? Is the kingdom better expressed in words or actions?
Pilate will soon wash his hands in water and pretend not to be involved in the brutality and bloodshed soon to happen to Jesus. How do you pretend not to be involved in the injustices of the world in the newspaper, television news? Consider the phrase: early christians followed before they worshipped, christians today worship and refuse to follow.
What is one action that you will do to be 'livingtheword' this week?
Download 6th Sunday Easter
Reflection Questions
Persecution in Jerusalem saw many christians go out to other towns and cities. Samaria was the Northern part of Israel, the home of the 'Samaritans'.  Because of history and religious differences – they waited for the Messiah to come to Mt Gerazim instead of Jerusalem – Samaritans and Jews did not associate together. It is a newly appointed Greek speaking Philip (see last weeks readings) who enters into this area. Looking back on your life, has sufferings, trials, persecution helped you expand the horizons of your life? In your workplace or parish do some barriers need to be broken down? Who could be a 'Philip' without the baggage of the past to work in this area?
Philip's whole life won people over to his message. It was not only his words but 'the signs' he was doing. Does your lifestyle help or hinder people to hear and accept the gospel?
Peter's letter acknowledges suffering. Keep your conscience clear and show good conduct. How could this apply to your life?
The Easter-tide readings are still dwelling upon the farewell speech of Jesus to his disciples in the Gospel of John (Jn 14-17). He promises to send to them 'another advocate'. Advocate comes from a greek legal word meaning someone who will give 'good advice' and stand alongside to speak for you. Like a lawyer in a courtroom. In trials and troubles the Holy Spirit will lead into 'truth'. John will also use the words 'Paraclete' (one standing alongside) and comforter as words to explain the role and experience the Holy Spirit will bring. Ponder the words 'Advocate' and 'Paraclete' and 'Comforter'. Does this expand your appreciation of the Holy Spirit?
Many consider the Holy Spirit difficult to know and experience. A guide from the scripture texts may be we need to be more courageous in mission – to 'be taken to court' – to experience the Holy Spirit at work? Can you identify an experience of the spirit at work in your life? How could this experience be grown and deepened?
There is a long prayer tradition of repeating and deeply feeling the words of a scripture phrase. Our mind focusses upon the words and our heart feels its truth. John shares some beautiful phrases today. Pray for 5 minutes with a phrase… take one with you for your car journey, lunchtime prayer, personal quiet time…. 'I am in the Father and you are in me and I in you'. 'Whoever loves me will be loved by my Father' 'I will love you and reveal myself to you'.
What is one action that you will do to 'livetheword' this week?