Posts Tagged 'Sunday Bible Study'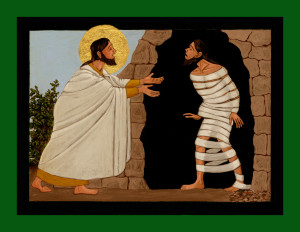 Download Reflection Document: 5th Sunday Lent
Reflection Questions
Ezekiel is an interesting person. He was both a prophet and a priest. He was also taken away with the first group of Israelites into exile. He shares a positive and hopeful message to his people. God will turn this situation around. Name a difficult struggle you experience in your life. Can you see a slow transformation and wisdom in the midst of your suffering? What does the deep voice of the spirit invite you to do so you can 'rise from your grave'?
St Paul uses the word 'flesh' (sarx) to mean people who have a selfcentred orientation towards the world. Frequently those who live this way make themselves, their senses and pleasure, their 'idol' / god. Those who live directed by the spirit of Christ are turned outward in love and 'self-lessness'. Ponder the powerful bodily image of arms wrapped around yourself tightly, or arms open and outstretched in embrace of the world. How do you live your life? How is your almsgiving this lent?
In the Gospel of John Jesus performs 7 signs. Each sign is a fulfillment of a Messianic hope from the Old Testament. Each sign reveals the presence of God in Jesus. Today is the 7th and most important sign. Jesus overcomes death. And only God can overcome death! Place yourself in this gospel story. If you were really there in this scene what questions would you ask? What would you believe from this experience?
Martha's questions reveal a growing knowledge of who Jesus really is. She begins with Jesus as someone close to God – "whatever you ask, God will give to you." Jesus responds to Mary's belief in the resurrection on the last day with a powerful statement: Mary, the one who is in charge of the resurrection is looking at you! I AM the resurrection and the life. And to prove it, Jesus raises Lazarus. What does Jesus wish to reveal to Mary? Do you see the 'sign' and believe what it is pointing to?
The Rabbi's believed and taught that the spirit and breath of life hovered around a dead body for three days. Waiting for 4 days can be understood as Jesus ensuring everyone knew Lazarus had truly died. Twice Jesus is 'perturbed' or angry that someone he loves has been tied hand and foot and buried. (A symbol of what sin and death can do to us.) Untie him and let him go becomes a fulfillment of Ezekiel's promise (1

st

reading) and an image of what Jesus can do personally for each disciple. What tomb am I in? What cloths bind me up? Who might God be using to 'take away the stone' blocking me from joy and life?
What is one action that you will do to be 'livingtheword' this week?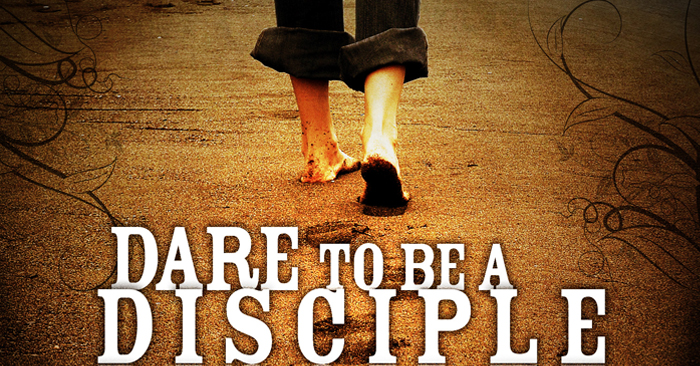 Download 23rd Sunday Reflection Document
Reflection Questions
The Book of Wisdom was a Jewish response to the wisdom writers and Greek Philosophers seeking to understand the meaning of life. Written for Jews in Alexandria, the international and cultural centre of the time, many Jews were giving up their faith and adopting a Greek philosophy. Greek Philosophy taught that human nature was ʻagainst God' and we could not ʻknow God'. The Wisdom writer teaches we can be in tune with the Holy Spirit of God so our paths can become ʻstraight'. What do you think? Have you experienced the guidance of the Holy Spirit at any point in your life?
Philemon was a convert of Paul and he was obviously wealthy enough to have slaves. Onesimus was a slave of Philemon who had escaped, found Paul in Rome, and had become very helpful to him. But Paul found out Onesimus was a ʻslave'. He sent him back – with this letter – to his master Philemon. He does not try to change the slavery system, but seeks to change the heart of Philemon to treat Onesimus as a ʻbrother' and to give him the status of being ʻfree'. It was a dangerous move. Onesimus could have been killed, or at least be branded with ʻf' (fugitive') on his forehead. Why would Paul take such a risk for freedom?
Today Luke shares the most radical challenge of following Jesus. Great crowds are following Jesus and he turns to them because they may not truly understand what following him will involve. The disturbing ʻcost' of discipleship is that they must ʻhate' their family! This is a Jewish teaching method to prove a point. Jesus challenges every disciple he must come first. Above all family relationships. For Jewish people this is upsetting. Jesus is to be preferred before Mum and Dad… Jesus is to be the top social priority of their lives. What does this discipleship challenge mean for you personally?
Jesus often provides instruction, then offers an image into what living his teaching will look like. Building a house or marching into battle are two of the biggest challenges one might undertake in life. Instead of finances and military supplies, discipleship preparation is the task of being free of attachments to family and possessions. What would this large discipleship preparation task look like for you? Do you want to ʻfollow? What are your biggest obstacles?
Freedom in relationships and possessions is a sign of a closer journey with Jesus. Imagine taking a modern person away from family and friends, cell phone and internet. Why is it difficult and why might it be ʻnecessary'? Is there a relationship you are in which requires more freedom, possessions you may need to give away or your lifestyle simplified so that you may not be so ʻentangled' in following Christ?
What is one action that you will do to be ʻlivingtheword' this week?
Download Sunday 26th
Reflection Questions
Ezekiel was a priest and a prophet with his people in exile in Babylon. Jewish people had a deep sense that sins of their ancestors had caused their current situation (in exile away from Home and their sacred Temple in Jerusalem). It was easy for them to 'blame' others for their current situation. They 'blamed' God that this exile was 'unfair'. Ezekiel invites them to take personal responsibility for 'sin'. Turn to virtue, do what is right and just. This is the way forward. God will teach us and lead us home. Is there an attitude in your life of 'blame' rather than taking 'responsibility'? Blame leads to death. Responsibility leads to life. What change do you need to make?
St Paul invites disciples to have the one essential attitude that will maintain unity: humility. Giving up an attitude of having special rights. Power. Influence. Can you think of a situation in which being 'humble' would have saved a meeting, argument, relationship. How could you become more 'humble'?
Jesus has now arrived in Jerusalem. Angry at his emptying of the Temple, the religious leaders challenge his actions and authority to teach. Jesus responds. Pious words and lip-service is easy. To be true children of God requires actions of doing the will of the Father. In your own self assessment, how large is the gap between your profession of faith and the practice of your faith? In what area of your life is more 'action' required? What would motivate you to action?
Anyone can talk holiness, but it is quite another thing to live it. Consider someone in your life who 'talks the talk and walks the walk' of their christian belief. How do they inspire your journey? How could you follow their example?
Both sons responses hurt the Father. No-one here is perfect. Jesus understands a priority for Jewish people is to show 'honor'. The son who said 'Yes, sir' was honorable in front of the Father but it was soon revealed as empty and meaningless. Honor is shown ultimately in real obedience. What will it mean for you to 'walk the talk' in obedience this week? Consider writing it down.
A requirement for 'tax collectors' to be truly repentant and 'right with God' was to repay money to those who had been 'over-taxed'. However it was impossible for them to know and remember all the people they had wrongly taxed. Tax collectors felt helpless and stuck in a situation of never feeling they could be forgiven by God. Jesus reveals this is not the case. God welcomes those who turn to him. Do you know someone who needs help to hope and believe in God's forgiveness? Consider praying a special prayer for them.
What is one action that you will do to 'livingtheword' this week?